Maximize the value of your risk management file as a communication tool
Feb 27, 2023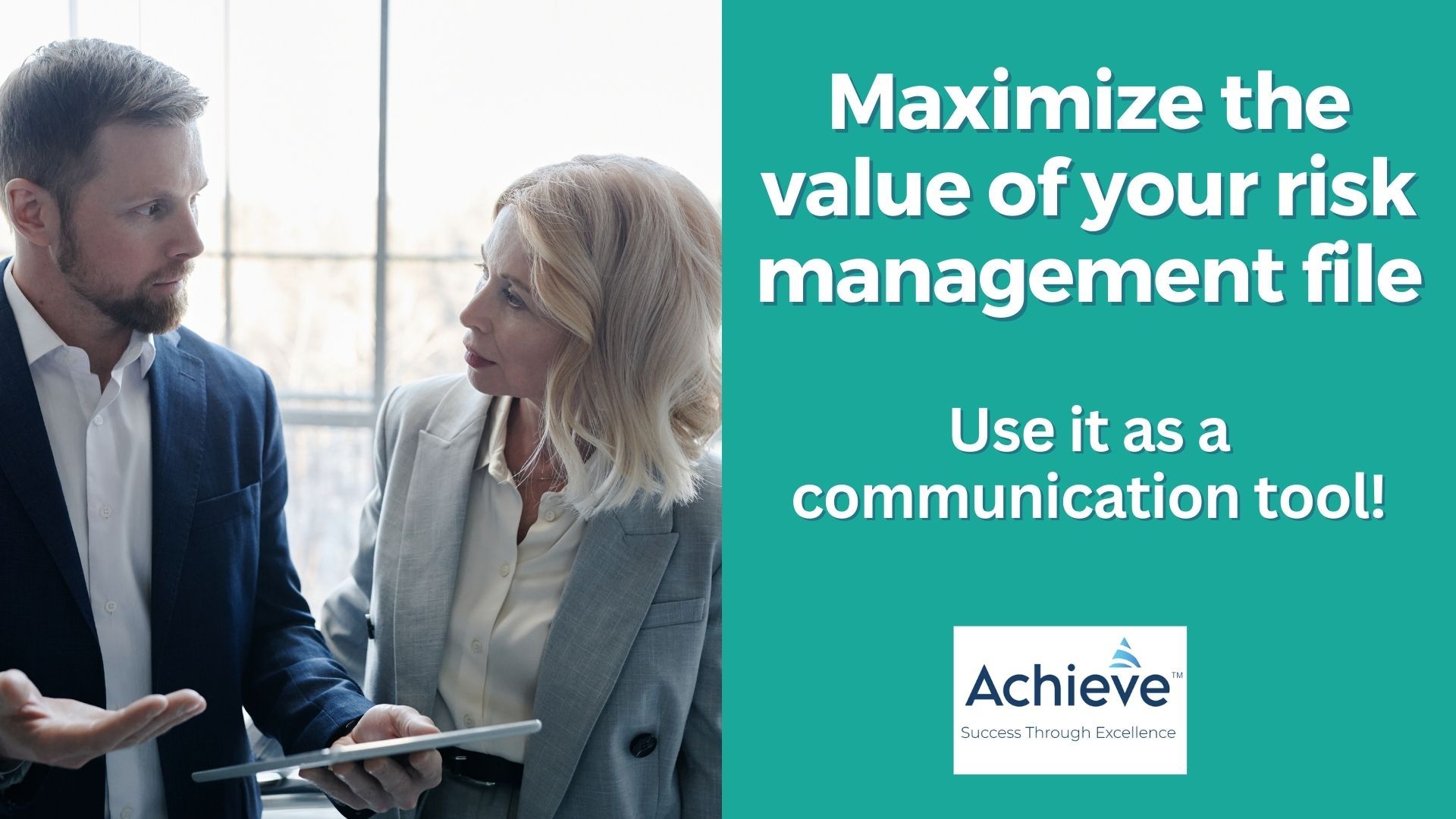 As a medical device manufacturer, you are required to establish and maintain a risk management file for ISO 14971 compliance. But did you know that you can maximize the value of your risk management file as a powerful communication tool within your organization?
Yes, compliance is important, but effective communication is more valuable
ISO 14971 requires a risk management file to contain records and documents resulting from the risk management activities outlined in the risk management plan. The main reason is to facilitate efficient auditing of the risk management process for traceability and completeness.
It is not necessary to physically collect different records or documents in one place such as a filing cabinet. References to relevant records and documents is sufficient. The main point is that records and documents are easily retrievable when required for a review during an audit.
Establishing a medical device risk management file, and maintaining it throughout the device lifecycle requires a lot of effort. That is why you should try to maximize the value of your risk management file beyond just compliance.
According to ISO/TR 24971, Guidance on the application of ISO 14971, "the risk management file should provide the information necessary for the review of the risk management process at any phase in the medical device lifecycle".
Therefore, you should consider your risk management file as a communication tool.
Risk management involves many stakeholders from different functions such as Quality, Research and Development, Manufacturing, Medical or Clinical Affairs and Regulatory. Also, it is not uncommon to have many new team members join the organization during the device lifecycle.
It will help you improve the efficiency of your risk management process if you plan and organize your risk management file for effective communication. Here are some of the benefits you can achieve:
Everyone will have a common understanding of current status, key issues and open items.
Discussions about resources will be driven by clearly defined activities, deliverables and timelines in the risk management plan.
New team members will be able to quickly learn about the overall project and their specific deliverables.
Everyone, including external stakeholders, will be able to understand the overall benefit-risk status of your medical device.
You can quickly demonstrate both traceability and completeness by using a hierarchical risk management file structure.
Here are some helpful tips for you to maximize the value of your risk management file as a communication tool.
Start with the risk management plan and the risk management report
The two most important records in your RMF are the Risk Management Plan (RMP) and the Risk Management Report (RMR).
Note that both are "living" documents and they need to be continually updated throughout the device lifecycle.
The RMP provides a roadmap of different risk management activities for a medical device to ensure continued safety and effectiveness. The RMR provides a snapshot of results achieved, especially the acceptability of the overall residual risk for the medical device in the context of the benefits of its intended use.
It is a good idea to use a simple but well-structured format to document the required information in these documents. Use simple, easy to understand language and avoid excessive jargon. Think of a broad audience, not only those with a high degree of technical knowledge about the medical device.
Anyone in your organization should be able to read and understand these two documents quickly. Consider using the Flesch-Kincaid readability tests to ensure you are using simple, short sentences and simple vocabulary. If you must include specific terminology, use a glossary of terms in an Appendix.
A good idea is to provide an Executive Summary and a Table of Contents.
Establish a clear organization, and easy document retrieval
Generally speaking, your RMF for a specific medical device or device family will multiple records, often as many as 10-15.
Consistency in nomenclature is important. Develop a naming system for different types of records and use it consistently. Anyone in your team should be able to easily understand the nature of each record just by looking at its name.
Consider developing a hierarchical structure for different records in your RMF as shown below: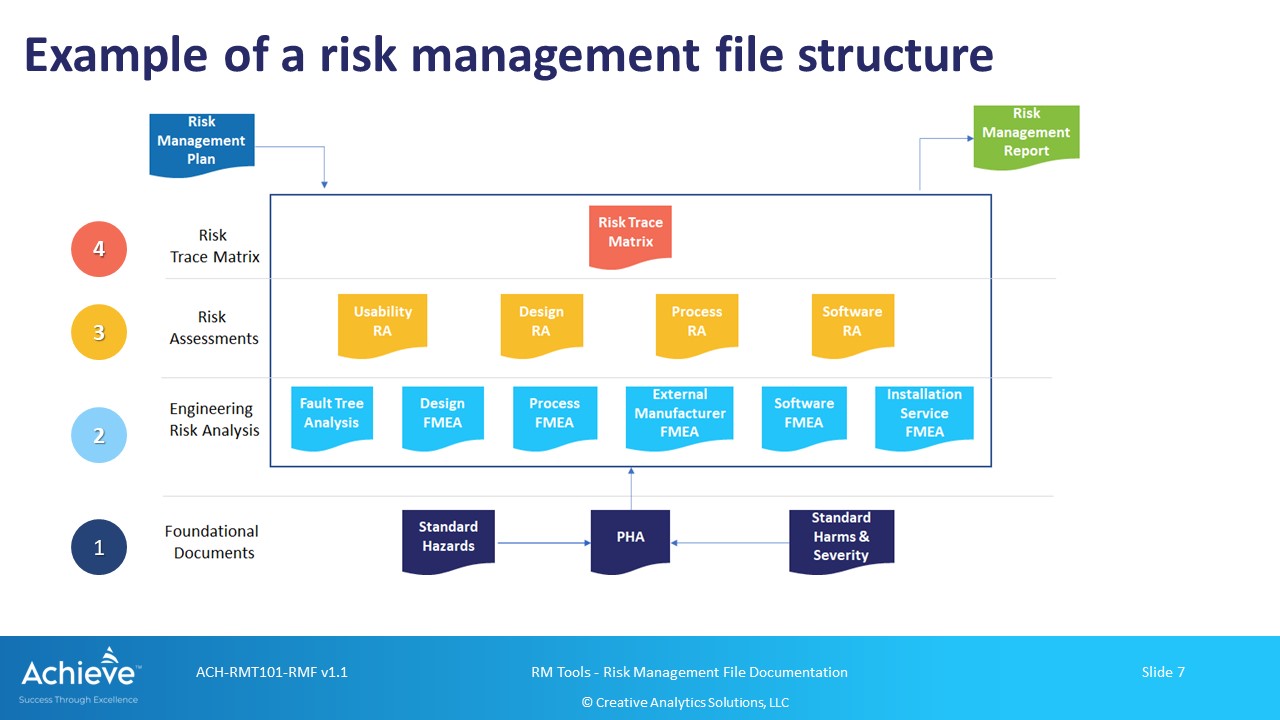 As illustrated in this structure, a Risk Trace Matrix can be used at the highest level to show traceability and completeness of risk analysis, risk evaluation, risk controls, residual risk acceptability and benefit-risk. Lower level records such as your FMEAs, FTAs, Hazard Analysis, Use-Error analysis etc. can be linked to the higher level records.
if you build the correct relationship between hazards, hazardous situations and sequence of events using hazard analysis, you can easily analyze the post-market surveillance information to analyze changes in the risk level.
In conclusion
Think of your RMF as a communication tool within your organization.
Sure you need it for regulatory compliance purposes, but its most important function is to help ensure a common understanding of the current status of your medical device. Anyone in your organization should be able to understand the plan and outcomes of risk management activities. By thinking about your RMF as a communication tool, you will significantly reduce the onboarding time for new team members, improve collaboration across different functions while also complying with regulatory requirements.
Looking for affordable ISO 14917 training? Learn more about structuring your risk management file for easy ISO 14971 compliance using a ISO 14971 checklist in this mini-course: