3C's to consider before selecting an ISO 14971 training course for certification
Feb 06, 2023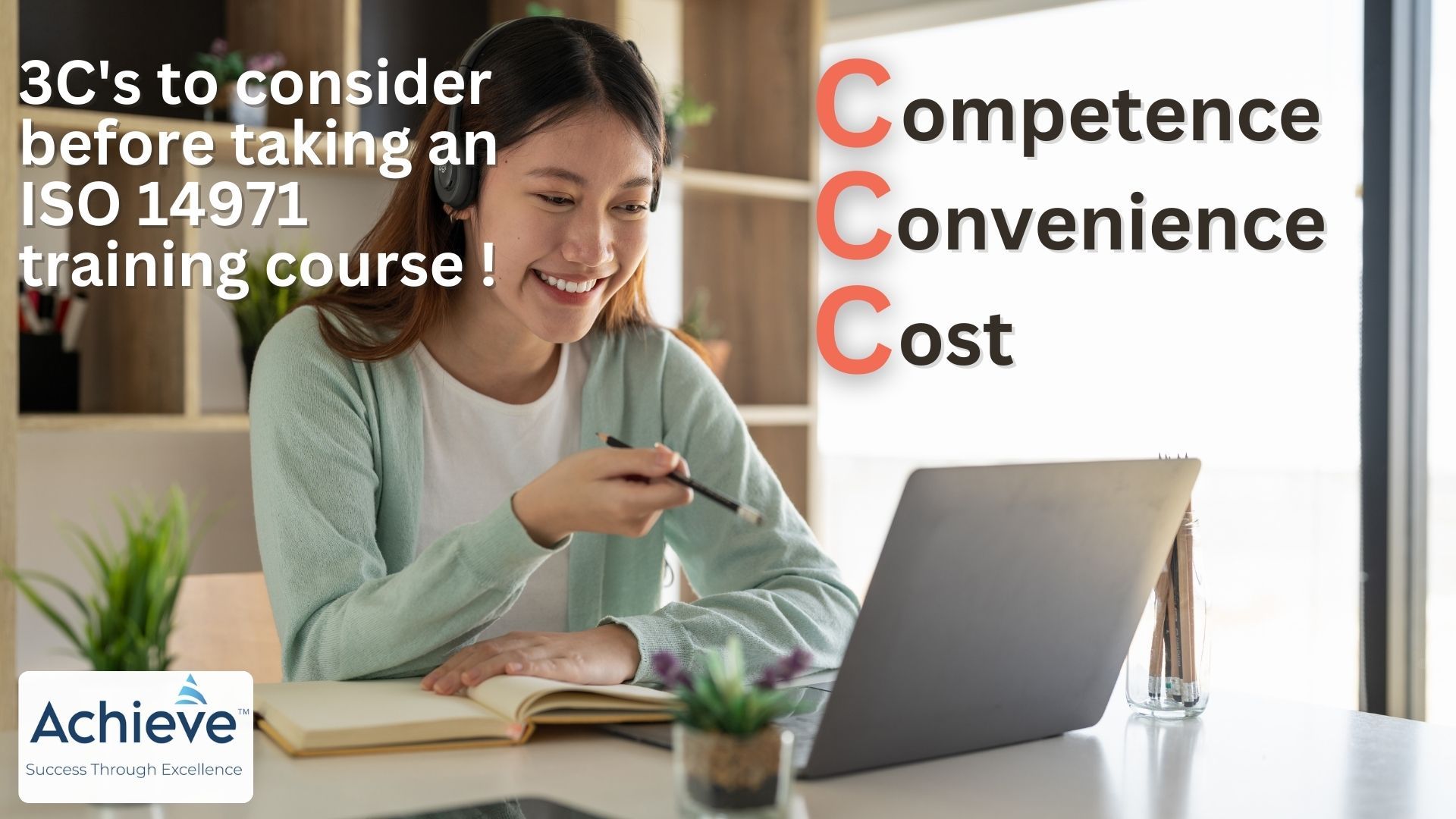 If you are looking to get certified in medical device risk management according to ISO 14971, you are probably finding it hard to select the right ISO 14971 certification course that can help you build world-class competence at an affordable cost.
When it comes to ISO 14971:2019 risk management training, there are 3 main factors you need to consider - competence, convenience and cost. We will explain these factors in this blog post to help you make the right decision!
A certificate of competence in ISO 14971 is a career booster
Risk management of medical devices is a highly specialized field. If you want to be involved in the risk management activities, you must be able to show evidence of competence in application of ISO 14971 requirements for risk management. If you are a professional in the Quality or Regulatory functions in the medical device industry, a certificate of competence can help you advance to the next level as a risk manager or process owner.
It can also help you find a new job in this highly competitive industry by differentiating yourself from other candidates.
However, just knowing the requirements is not enough to demonstrate competence
You should also have the skills to actually establish an effective and efficient risk management process.
Therefore, a good ISO 14971 training course must not only help you learn the WHAT of the requirements, but also the WHY, so you can master the HOW. Remember, competence is achieved by a combination of education, training, skills and experience.
Now let us look into the 3 factors of Competence, Convenience and Cost you should consider when selecting the right ISO 14971 certification training course for you.
Competence (of the instructor)
Who you learn from is more important than the name/brand of the organization offering the ISO 14971 training course!
Sure, the name and reputation of the organization matters. But it is not sufficient by itself to ensure that you will get the best in class training to help you build competence for real-world application.
Competence of the instructor, not just their knowledge of the ISO 14971 standard matters.
Here are some of the questions you should ask:
Does the organization specialize in risk management, or is it just one of the many different training courses they offer?
Is the instructor a full time employee of the organization or a sub-contractor simply delivering training using pre-developed (i.e., canned) training materials?
Do they use a case-study based approach of teaching with practical examples and templates?
What are the qualifications and experiences of the instructor, specifically with respect to risk management of medical devices? Have they actually created and implemented risk management processes that are both compliant and efficient?
Is the instructor broadly recognized in the industry as having real-world competence in risk management?
Is the instructor not only competent in ISO 14971 risk management, but also a good teacher? How well do they communicate complex topics in risk management in simple, easy to understand terms? Are there any testimonials available about the training course and the instructor?
Unfortunately, many of the websites advertising ISO 14971 training and certification courses do not tell you much about the instructor and their competence. As a result, it is almost like going on a blind date with someone you don't know anything about! Do your research and ask the hard questions before you sign up for any ISO 14971 training.
Convenience (for you and your schedule)
Generally, ISO 14971 training courses are delivered in three different ways:
Virtual, fully on-demand
Live, instructor led - either virtual or physically in a classroom setting
Hybrid - part virtual, part instructor-led
There are pros and cons of each delivery method.
Fully on-demand, virtual ISO 14971 training courses tend to be less expensive, but you have no opportunity to contact a competent instructor to ask questions. You are pretty much on your own!
Live instructor-led ISO 14971 training courses tend to be very expensive, but they provide a good opportunity for interactive learning. However, these courses generally require you to commit a significant block of time. Either you have to attend a 1 or 2 day session, 8 h each day, or 4h blocks of time spread out over a few days. There is also limited flexibility in the training calendar because of instructor availability.
Hybrid ISO 14971 training courses are a recent trend. Most of the training material is available for virtual, self-paced study. After completing the self-study portion, you can join a live group session with an instructor for a more interactive learning experience.
However, you will not find all three types of course delivery formats in one place, unless the training provider is highly specialized and focused on risk management.
Here are some of the questions you should ask:
Is the virtual, fully on-demand version delivered by the same instructor as in the live, instructor-led ISO 14971 training course?
How is the virtual, on-demand version delivered? Are there any video lesson, or only slides with some notes?
Is the course material organized in short bite-sized pieces you can understand and absorb at one time? Or do you have to sit through a long session and take notes?
How much flexibility do you have in scheduling the training sessions if you are taking an instructor-led live ISO 14971 training course?
Is there a limit on the number of students in the live training session, or the group session in the hybrid model?
What are the requirements for certification? If there is a quiz, do you also get practice quizzes along the way that can help you prepare for the certification quiz? What is the passing grade and is there a limit on the number of attempts?
How accessible is the instructor during your entire training experience?
Unfortunately, most ISO 14971 training course offerings and training calendars are not designed with your convenience in mind. As a result, you are forced to choose the least inconvenient option, rather than the most convenient option!
Cost (not just the price but affordability)
Here is a simple fact.
Most of the currently available ISO 14971 training courses offering certification, especially those from big name organizations, are simply out of reach of many individuals. Unless you are able to get support from your employer, be prepared to pay nearly $1000 or more out of your own pocket.
It is even more challenging for professionals in low-income countries to afford these courses.
As a result, most of these courses are generally not accessible to many industry professionals, especially those who are early in their professional career.
Here are some of the questions you should ask:
Are there different training courses available at beginner, intermediate and advanced levels? For example, is there a low priced beginner level course in risk management fundamentals that can also offer an entry-level certification?
What is the price difference between fully on-demand and fully live ISO 14971 certification course and is that difference justified by the competence of the instructor?
Is there any difference in the quality of the content between fully on-demand and fully live version? In other words, does the lower priced fully on-demand course provide a lower quality of content?
Is there a payment plan option to help spread the total amount over a longer period of time?
Is the price adjusted for low-income countries without sacrificing the content quality?
Are there any discounts or promotional offers available?
Are there any bonus offers such as free resources, community membership, podcasts etc. available to enhance the learning experience?
Unfortunately, you will find most of the ISO 14971 training course providers to have a one-and-done business model. Unless you sign up for additional courses with them, there is no opportunity for ongoing learning and development.
At ACHIEVE, we are exclusively focused on providing world-class ISO 14971 training at the most affordable price points. Contact us today to find out how we can help you build real-world competence in risk management of medical devices.
In the meantime, feel free to explore many of our free resources and browse our course catalog.
Wishing you success ahead!